Worth Buzzing About - Concert Review: SHEL

We are always learning about new "gotta-hear" bands from our listeners. I learned about the new sister-group SHEL from a friend of mine and just heard their music for the first time 2 weeks ago. It's truly knock-your-socks-off good. Their debut full-length CD (self titled) releases on August 7.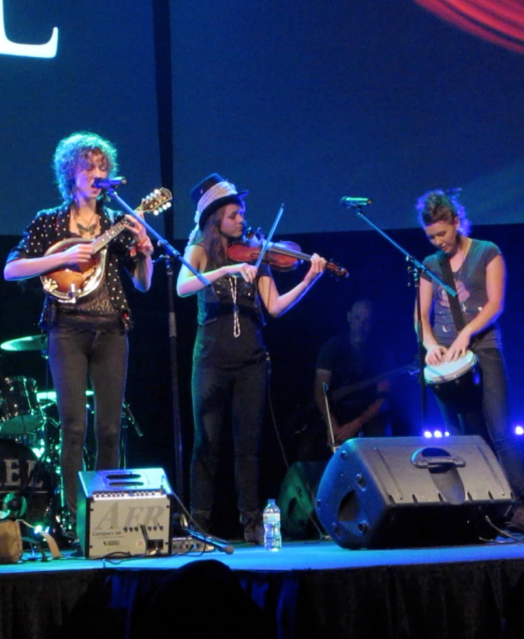 This last weekend, I headed out to The Hub in St. Charles, Illinois to see SHEL perform live. I interviewed Sarah, Hannah, Eva, & Liza before the show (their first initials make up the band name), and it was wonderful to experience how kind and humble they are. I'm sure much credit goes to their mom and dad for keeping their feet on the ground -- who also serve as band manager, backing bass player, drivers, and merchandise administrators.
SHEL took the stage and a beautiful sound filled the room as they began to play mandolin, piano, percussion, and violin. But as talented as these classically trained musicians are, I believe their tight vocals are what truly sets them apart as an elite band.
It's a lot of fun to hear indie-pop music loaded with creativity yet being played on traditional instruments. Put Taylor Swift, Florence & The Machine, The Civil Wars, The Farewell Drifters, and The Vespers in a blender and mix it all up; the result is SHEL. The have a broad appeal and could easily win over 13 or 63 year olds, which was reflected in the wide age range present in the nearly sold out auditorium at The Hub.
SETLIST:
1. Try To Scream
2. Lost At Sea
3. The Latest & Greatest Blueberry Rubberband
4. Piano solo
5. The Man Who Was the Circus
6. Freckles
7. Stained
8. Vinyl Memories
9. Ruby Slippers
10. Beatbox solo
11. Someone Else's Love
12. Electric mandolin solo
13. Paint My Life
14. Tuscany
15. The Battle of Evermore
16. When the Dragon Came Down



From beginning to end, SHEL's live performance transfixes you. The talent blooming from this young quartet is nothing short of... WOW! Some stand out moments this night were the stellar vocals in "Vinyl Memories," the unexpected beatbox solo by Liza, and the Celtic-influenced "Lost at Sea" (of which you can view the live performance video on our site).
They are a band on the rise and have all the talent and creativity to break through the glass ceiling into mainstream success. If they are ever performing in your neck of the woods, do not miss your chance to see SHEL live; a truly rewarding experience!
Congrats to SHEL for having "Freckles," their first ever music video picked up as one of MTV's "Buzzworthy Obsessions." Check out this terrific video, directed by Sarah from SHEL.