Somebody(s) to Love: Downhere, Jason Gray, Aaron Shust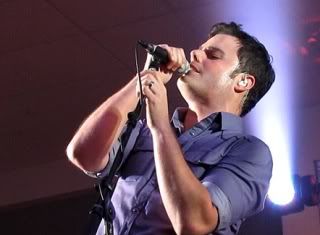 This week Marc Martel was voted winner of Best Fan Cover at the MTV O AWARDS 2. His cover of Queen's "Somebody to Love" has drawn nearly 5 million YouTube views and earned him an appearance on "The Ellen Show". He was even complemented on live TV by Queen's Roger Taylor, who said Martel is "an extraordinarily good singer who would make a wonderful Freddie." I wonder how many people know that behind Marc stands an extraordinary band. I was able to make one of the stops on Downhere's current tour, The Called to Love Tour, and it certainly deserves our attention.
Aaron Shust opened the concert with his unique brand of meditative yet passionate worship songs, including "Risen Today," "To God Alone" and "Never Been a Greater Love." My favorite song in his set was "Your Majesty," which he wrote in the midst of comprehending that his 2-year-old's medical condition had no cure. He penned the lyrics in surrender and awe amidst seeming tragedy. Shust's set was a time of honoring God's majesty.
Jason Gray was next with a set that revolved more around who we are in response to God's light. I've never been to one of Gray's shows and his transparency on stage had a big impact on me. He talked about the trials of growing up with a stutter, feeling like he doesn't measure up, and looking for love everywhere but from the Father. But Gray's set wasn't dark and depressing; it was all about how these things can be overcome with light. He started out with "Good to Be Alive" a song about how living each moment in gratitude can be a form of worship. After his well-known song "More Like Falling in Love" he prefaced the song "Sound of Our Breathing" by talking about the name of God.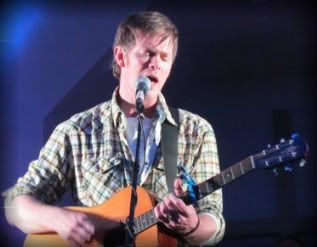 Gray breathed the name of God with the sounds of "YHWH," then raised the question, "What if the name of God is the sound of breathing?"
Gray's set was full of new perspectives, ideas, and responses. His excitement grew as he talked about the inspiration behind "Remind Me Who I Am," saying "If He needed us it would be crushing. Too much pressure. He chooses though, he chooses to use us."
The first two acts of the concert left the audience awestruck before the Lord and gave direction for how to live with that Truth. Downhere kept that momentum going to the end. They started out with the high energy song, "My Last Amen," about our longing to be redeemed from this broken world, yet struggling with the desire to stay where we are.
Downhere's songs were musically rich, adding layer upon layer of excitement. Piano, trumpet and guitar riffs blended with three part harmonies and fun driving rhythms, such as in "Living the Dream." They seamlessly moved to more intimate songs like "Let Me Rediscover You" and "Reveal the Kindgom," a cry out to God to carry us and provide us strength to fulfill our call. Their lyrics are inspiring, a combination of confessing our brokenness with a bursting-at-the-seams excitement over this love affair we have with our Savior and what He has promised to do for us.
Of course, the night wouldn't be complete without a performance of "Somebody to Love"
– and they pulled out all the stops. Shust, Gray, and their band members joined Downhere on stage for a finale I'll never forget. Half-way through, Marc jumped up on the drum stand with Jeremy Thiessen, back to crowd, clapping it out as Shust and Gray stepped up to the mic's. The crowd was going wild as the artists got more into it every passing second. With emotions flying high by the end of "Somebody to Love" they drew everything back and gave the glory to God by closing out the night with "Mighty to Save".
Being someone that prefers a small crowd in an intimate venue, I admit that I've never had a better concert experience than that night at CrossRoads Christian Church in Danville, IL; the five hour round trip was worth every minute.(If you didn't catch that, don't let distance come between you and catching one of their last shows on this tour!) Need a little more prompting? Check out more photos and a video from The Called to Love Tour.
So what's next for Marc Martel after Downhere's touring season comes to a close? There's a great chance he'll be performing in front of huge arenas all throughout North America as part of The Queen Extravaganza Tour. Don't believe me? Here's his performance of "Somebody to Love" from "The Ellen Show" on October 3, 2011.