Review: Andrew Peterson's "Light for the Lost Boy"

I experience a childlike glee every couple of years when a new Andrew Peterson CD is released. I did my best to stay spoiler free before I could take in his latest project, Light for the Lost Boy, from beginning to end.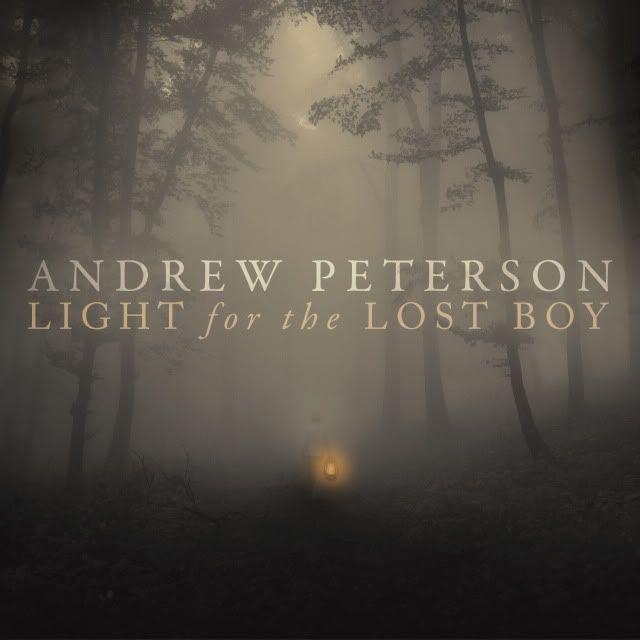 The experience is like the last several I have had when partaking in a new Andrew Peterson album for the first time: this is very excellent kinda sorta. No doubt I have deep respect for Peterson's songwriting, and I have so much faith in his pursuit of well-crafted art that I know I will fall deeply in love with his new release. Still, my very first listen is usually put up against my expectations which accidentally grew to Jurasic heights. Yet, as with nearly all of his CDs, there is so much more than meets the ear at first listen.

In the case of Light for the Lost Boy, the thing that stood out to me on the surface was a more progressive production than the usual AP release. I credit this (rightly or wrongly) to Cason Cooley (Katie Herzig, Derek Webb, Matthew Perryman Jones) who was brought into the fold as a producer on LFTLB. This was the more full instrumentation I was originally hoping for with Counting Stars. There's even a mini electric guitar solo on "Cornerstone." I was so surprised and attracted to the musical production, that on the surface the album seemed to lack the lyrical depth I was accustom to with AP albums.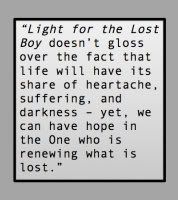 I'm happy to report that it was only a mirage. Now having listened to a pre-release copy of LFTLB about a dozen times, I can tell you that as the surprise of the avant-garde production wanes, the poetry and imagery of the lyrics come to life. Peterson's latest is an artistic jewel that only becomes more precious as layer upon countless layer are discovered. With each listen, Light for the Lost Boy seems to grow in depth and begins to shine as one of the best albums of the year.

In a culture that has in large part lost touch with the importance of lament, Peterson is not afraid to ask questions like, "How long," "Why now," and "Who will help?" The opening track on the CD ("Come Back Soon") sings out: We awaken the night in the womb of the world/ We beat our fists on the door/ We cannot breathe in the sea that swirls/ So we groan in this great darkness for deliverance.

Lament is a key theme throughout the record – both the realization that we have lost our childlike heart, and in the groaning of a father who is watching his children grow up and inevitably face pain and hardship. Songs like "The Voice of Jesus," "Carry the Fire," and "You'll Find Your Way" are an encouragement from father to child to always remember his love, and ultimately the perfect love of Christ, that can be a light when they face darkness.
I am so thankful that Andrew threw the music industry "rules" out the window on the closing track. "Don't You Want to Thank Someone" is a 10-minute masterpiece that is easily one of the best songs of 2012. From the rising of the sun, to the birth of spring, to a heart forgiven, to a soul given new life – this track beautifully celebrates the pictures we have of God's redemptive work in this world and in our lives.



Light for the Lost Boy doesn't gloss over the fact that life will have its share of heartache, suffering, and darkness – yet, we can have hope in the One who is renewing what is lost. "When darkness overtakes the godly, light will come bursting in." (Psalm 112:4) Don't pass up this standout album. It impresses musically and sonically, but it is the themes and words of this release that could be a light in your life for many years to come.



CLICK HERE to buy Light for the Lost Boy by Andrew Peterson -- available on CD, Vinyl, Download, and 2-CD Deluxe Edition.