Q&A with The Farewell Drifters
I call it "love at first listen." It's those rare moments you stumble upon an artist you've never seen or heard before – oftentimes as an opening act in a live setting. I had one of those moments in late June 2010 at the Cornerstone Festival when I first saw The Farewell Drifters perform live. They an uber-talented quintet whose music has a mixture of folk, bluegrass, country, and 60's pop. It was a great treat to have the band in our studios recently, and here's some questions I had for the band's founding members Zach Bevill and Josh Britt:

DT: When did you first fall in love with making music?
Zach: I've loved music my whole life. I don't remember a time when I didn't. I was singing from a real young age, like two years old. The most often repeated command at my house was "No singing at the dinner table." There was just always a song going through my head. My parents sang in church choir and that kind of stuff so I just got into it at a really young age.
Josh: It was the same with me. I grew up in a family of musicians. My father played when I was a kid and my mother sang in a bunch of singing groups. I was always around music in the house. I kind of rebelled against it for a while - which is weird. You don't want to do what your dad's doing, you know? I think when I was about 16 or so I started writing songs and I was really into that part of it.
DT: I love your band name. Where did you guys come up with that?
Zach: We really just liked the name The Drifters in general. We found out that had been taken already in the 60's.
Josh: We went by that for a while.
Zach: Yeah for a few shows.
Josh: People kept pointing out the old R&B band.
Zach: Yeah, so we knew that wasn't going to work. So we just kind of tried to think of something that had a really good ring to it. Josh thought of The Farewell Drifters.
Josh: At the time I was listening to that song "Farewell Angelina" - that Bob Dylan song, repeatedly, so that's where the "Farewell" part came from initially.
DT: What is the overall theme of your latest album Echo Boom?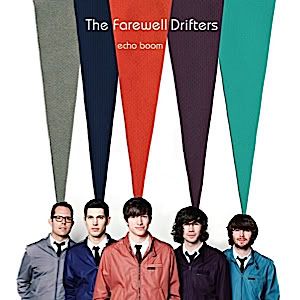 Zach: Well, we named it Echo Boom because it's a term that's used to describe our generation because we're the kids of the Baby Boomers - and so we're sort of their reverberation. Originally we thought of that title because it seemed fitting stylistically. We have a lot of influence from the music of our parents - music from the 60's - old harmonies like The Beach Boys, Simon & Garfunkel – kind of those retro sounds. So that was why we had originally thought of calling it Echo Boom. And then as we were sort of preparing for the album to come out, someone pointed out to us that a lot of the lyrical themes that were running throughout the record applied to our generation. They were the same types of struggles and the same types of situations that a lot of our generation is facing. And so it kind of fits in that regard too.
DT: What are you guys like away from the stage?
Josh: It depends. If we're on the road, when the show is over we're always staying with friends and in town with friends - so we like to hang out. But I feel like we're on the road so much that when we go home it's like we all just kind of [do our own thing].
Zach: Well we all have our different quirks. When I go home I like to go on a hike or a canoe trip. I spent a lot of time outdoors when I was younger and I don't get to do that nearly as much anymore. But whenever I can that's always really refreshing for me.
Josh: I like to go collect weird old stuff.
Zach: Yeah, he collects a lot of weird stuff.
Josh: (Laughing) Not all weird stuff - like vinyl or things like that. Nashville has a lot of cool places.
Zach: Like flea markets and thrift stores.
Josh: Christian Sedelmyer, when we're off the road, I think he still plays fiddle non-stop.
Zach: Yeah, that's all he does.
Josh: …all day long.
DT: So are there any video game geeks in The Farewell Drifters?
Josh: Yeah, actually me yeah.
DT: Oh wow!
Josh: Yeah, I've been playing the game Mist on the road. And Riven – I got it on the iPhone.
Zach: He's a closet gamer and you just outed him!


The next episode of UTR (Episode #154, available 10/28/11) will feature an interview and several songs by The Farewell Drifters. Also look on our site for exclusive videos of the band performing live.