Q&A With Steve Taylor
In the midst of its national release, we are excited to give support to the new film Blue Like Jazz, one of this year's most important media projects. Just like the book, the film breaks so many molds: it doesn't star Kirk Cameron, a huge chunk of the production was funded by thousands of patrons, it's a story that's accessible to people at all different points on their spiritual journey, and the closing credits won't be selling you small group booklets. I had the privilege of interviewing Steve Taylor, the film's director, to talk about how how this project came to be and the hurdles his team had to overcome to get to this release date.

DT: When did you first become interested in making the movie Blue Like Jazz?
ST: I first read the book a little over five years ago; I thought it was well written and I was struck by the honesty of communication. I loved this setting, in this case, of Don [Miller] auditing classes in the "other world" of Reed College. Frankly, it reminded me a lot of growing up as the son of a Baptist pastor and going off to college at Colorado University in Boulder. The sense of displacement that I felt and yet, still believing that Christianity was true, left me wondering why there was such a gulf between the two. I thought it would make an interesting movie with a universal theme – the sense of being a fish out of water. Pondering the question "How do you make your way in a world you feel you don't belong in?" in the film seemed like something people would respond to in a way similar to how they've responded to the book.
DT: I've heard more than a few people say, "I can't imagine that book being a movie." What are your thoughts in response to that?
ST: We talked about that a lot because you don't put the book down and think, "Oh, I see this movie in my head." I think that's a good thing for us. If you read Harry Potter, you have that movie in your head and you're going to see if what's in your head matches up with what's on screen. But you don't put down Blue Like Jazz and see it all laid out in your head. So the hope is that people go in with a little bit more of an open mind as to what this is going to be; hopefully, we won't disappoint them.
DT: Why do you think the project almost fell apart?
ST: Well, we worked for nine months and put together what we thought was a really strong screen play. And I just thought it was going to be easy to find funding for this project. The book was really popular, I thought the screenplay was strong, and I thought it was a story that needed to be told. I just assumed there would be enough people who agreed with me to find funding relatively easily. But it just didn't happen. Unfortunately, we're in this strange age where faith-based film making is supposedly synonymous with family-friendly. I'm all in favor of family-friendly movies, but I don't sit down and read my thirteen-year-old the Song of Solomon either. The thought that those two are synonymous is bad and wrong. I thought that if any book would have a chance to be outside of that current framework, Blue Like Jazz would be it--it's well known and well loved. The movie would have the chance to tell a story that needed to be told, would do it in a way that was entertaining, and hopefully, would set a course for a what people think of when they think of films that include faith as part of the story.
DT: So what happened September 15, 2010?
ST: Frankly, without sounding too whiney, it's hard working with other people trying to help you raise money because in their mind it's like, "What's the rush? Why does it have to be done next fall? Just relax; it will happen when it happens." But no, that's not how movies get made, somebody has to be there pushing, saying, "It has to be now." Otherwise, movies just don't get made. So after three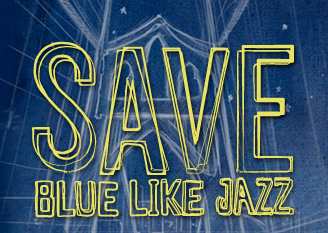 years, I finally said, "Look, September 15th is the day, it has to be there or we're done. I can't keep doing this." So we pushed really hard, kind of cobbled the money together, and then right before the deadline one of our backers for a-quarter-of-a-million dollars backed out. I thought that was the end of it. I called Don and he was depressed. He blogged about it, apologizing to his readership that it wasn't going to happen. And that's when fans of the project, people who wanted to see it happen, started writing back to him saying "You can't let this die. I'd give you twenty bucks to make it; there has to be other people who feel the same way."
DT: Tell us about how fundraising occured from that point on.
ST: Two young men in Franklin, TN, loved the project and particularly loved Don's book A Million Miles in a Thousand Years, which is about the writing of the screen play for Blue Like Jazz. They were like, "Let us help you. We've never done this before, but let us help you find this money and let's use this crowd sourcing site called Kickstarter.com. We think we can make this happen." And honestly, if it hadn't been for them, I wouldn't be sitting here telling you this story. They pulled it off. They raised $350,000 in thirty days with 4,500 people giving five, ten, or twenty-five bucks!
DT: What do you hope viewers take away from Blue Like Jazz?
ST: I think one of the reasons that book speaks to us is it brings us back to Jesus and reminds us that a lot of these trappings we think of as Christianity really aren't Christianity at all. They're more of an American culture version of what Christianity has become almost by default. This book gave people a different language to discuss faith, and more than anything, it gave an easier avenue to explain what our faith is. It's a good conversation starter. The goal has always been that the movie would make you feel what the book made you feel when you finished it. In the same way, we hope the movie will be a really good conversation starter.
Just like indie music needs our support and patronage, so does a labor of love like the movie Blue Like Jazz. This is not the film you want to wait to see until it's released on Netflix or Redbox. Let's go out and support this thoughtful, well-executed piece of art! Also tune in to UTR #178 where Steve Taylor will be our guest all hour. You can also read a review of Blue Like Jazz by our sister ministry, Think Christian.

And here's the movie trailer to whet your appetite!