Why Did He Give It Away For Free? [Q&A with Josh Garrels]

Even though he has been recording music for over a decade, many people discovered the amazing talent of Josh Garrels over the last 12 months, largely due to offering his latest album free for one year... and the off-the-charts quality didn't hurt either. As we near the one year anniversary of this groundbreaking release, I talked to Josh about that project. [The last call to get the 18-track album for free is at the close.]

DT: What is the overall theme of Love & War & The Sea In Between?
JG: One, it's sort of written into the title that those are sort of the three main themes of the work, and those intertwine in various ways throughout the songs on the album… that of love and relationship – both the victory of love but also the tragedy of betrayal and denial of love and refusal to engage in a loving manner person to person and person to God, you know; because those things are intertwined with one another.
And then there's "war" which, once again, is sort of a dualistic nature that we're in a world where there's wars and rumors of wars, there's a history of wars, and there are principals and themes that emerge when you look at how wars happen. How do evil dictatorships happen with the likes of Hitler and Stalin? And, even controlling, new age governments… what are some principals we see at work? But then the dualistic nature being: I know and I believe that there's a spiritual element to everything that's happening. There is an unseen battle over the hearts and souls of mankind and, interestingly, a lot of the same principals that you look at - the wars and the conflict - those can be applied into the spiritual domain as well. So even the songs dealing with war are sort of in the flesh, but also in the spirit.
And then "the sea in between" being the symbol of this vast expanse - a powerful, majestic sea that can claim your life and has many potential dangers, but it's also this beautiful, captivating thing. We pay millions of dollars to buy a house that's on the sea so we can look at it because it inspires something in us… you can't see the other side, you know? And so the sea goes on to symbolize a whole lot of things… an expanse that separates, but also there's another side out there somewhere, there's another shore somewhere over there.

DT: Why did you choose to give away this album free for a year?
JG: I always feel the need to say it wasn't my idea and I didn't like the idea. In like 2006 or something Radiohead gave out In Rainbows and it was this really effective promotional stunt. I remember at the time I was about to release Over Oceans, 2006, and I told my wife, "Babe, maybe we should just consider giving this away." She was like "Yeah, I don't think that's a good idea, Josh." And at the time it very much would've been sort of a promotional stunt. Like, "I heard that Radiohead or Derek Webb, they gave away their album and now more people are coming to their shows and they're selling more albums." At the time it was like, my cogs figuring out "How do we make this work?"
But we've since gone on to have a career that's sustainable and has this sort of slow but steady growth through word of mouth and creating new work. And Love and War being this album that's 18 songs, took almost a year and a half, huge amounts of collaboration and in some ways it would be the last album that I'd be like, "Let's just give this away," you know? But it was in the final stages of the album… I lost my voice for four months, created the entire album around scratch vocal tracks, reached the point of crisis – only had a few weeks of recording left. And I had to do the "Christian" thing, which is fast and pray and ask God "What's happening? Is my voice going to come back?" Four months is a long time. And I felt like He drew close to me in that time in a very real way, more real than He had for some time. And His challenge was, "Give Me the glory." And I knew immediately it meant more than just some prayer, like, "Lord, You have the glory," and then we go on and live our life. I knew it was like, "Give Me this. Not only give Me this, give Me all the income from this. Let go. Finish it and let go of it."
And immediately, all your motives for creating something are brought to the surface. Be it right or wrong, you're thinking, "If this sells well, maybe I can get my wife and kids a house and actually build the music studio I want to build." And all those things start to attach themselves to the work, and the Lord is essentially saying "Let go of all that. You say you're doing this for Me, but are you? If I say give it to Me because it's Mine, will you give it to Me?"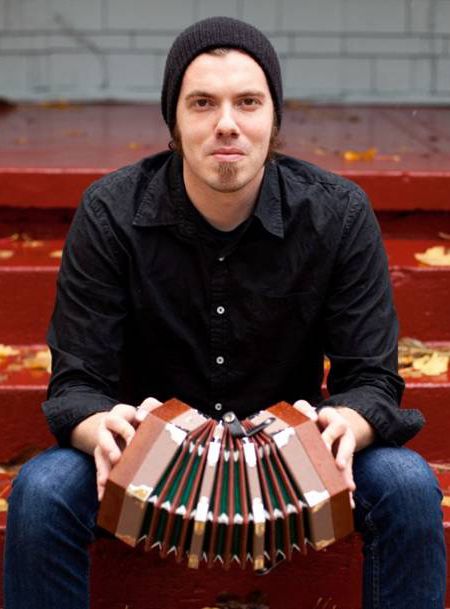 And so, I had to sit there when He asked me that for twenty minutes in silence, because my relationship with Him is such that He can be stern with me, and He was waiting for me to answer out loud. So I had to sit there for twenty minutes and weigh the consequences of that decision with a wife and two kids. And I said, "Alright, alright, it's Yours. Take it." And interestingly, He immediately sort of… it sounds silly, but gave me a hug in the Spirit and said, "Well, done." And then He laid out parameters. He said "One year, you give it away. Don't accept a thing. Any money that comes in from this you either use to give more albums away or you give that money away." So we called it this year of Jubilee, where we just let go of this thing and anything that comes in from it.
Yet at the same time, I have to say I wasn't into the idea, but it's been hugely fruitful and exciting and has purified our motives with music; but also has expanded the listening base of this music, at this point 12-fold. Which is insane. So we have received much due to letting go, which is the strange dynamic - you have to die to live. I didn't want to, I said ok, and then it's way better than it probably would have been.
To finish the story, I always forget this part, He said then, "What do you need to finish it?" And I said, "Well, I need my voice, and I need 10-grand." And that week, my voice came back, I recorded all the vocals in a week and a half and a complete stranger wired five-grand into my account that next week, and then the rest of the money to finish it came in shortly thereafter. It was like this immediate answer. That doesn't always happen. I mean, my life's not that spiritually charged all the time, but it was one of these moments where like, bam, bam, bam… stuff happened. It was wild.

This is the final week in that "Year of Jubilee" to download Love & War & The Sea In Between for free. Just go to www.joshgarrels.com to take advantage.

Listen to Episode #188 of UTR, where Josh Garrels is our VIP guest all hour. Plus right now you have a chance to win an autographed 4-pack of Josh's music.
[Photography courtesy of Becca Blevins Photography.]