Q&A with Eric Peters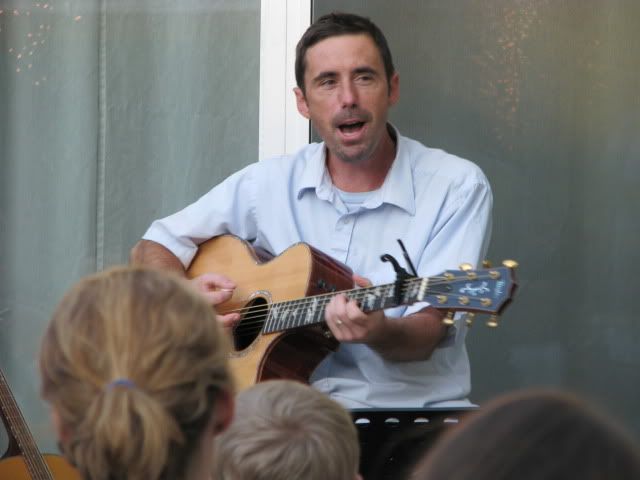 We're such fans of Eric Peters that we decided to partner with him on a 2+ month nation-wide tour of (mostly) living room concerts. The experience was a major highlight of 2011, and – as always – it was a treat to spend so much time on the road with Eric. We did manage to corner him into the UTR studio and asked him a few questions:

DT: Tell me about your perspective of the UTR "In Your House" Tour.
Eric: I must say that I was a little, not hesitant – that's the wrong word, but slightly terrified doing the house show tour because I've done a smattering of house shows but they've always been very random. I have been more used to being in a venue or church setting where there's a stage and sound system, which I was much more comfortable with. The house show is a completely different environment with none of the usual trappings or flare. It's just you and your guitar and most times a tiny little living room with a few folks and chairs – very intimate, you're just sort of there with people. So it was really intimidating at first, but this house show tour that we've done, the more I did it, the more I've felt comfortable with doing it and just enjoying the opportunity to enjoy people more. I'm much more comfortable in my skin and who I am these days. I think that just allows me to enjoy people and enjoy the moment that I'm getting to play music with people that have never even heard of me or my music before. They're lending me their time and loaning me their ears for an hour. So I've grown to really love house shows, just for that reason. I get to talk a little more about songs and invite interaction with the folks that are there in attendance. I think it's just more fulfilling.
DT: How does it feel to have a successful Kickstarter campaign to raise much of the funding for your next album, Birds Of Relocation?
Eric: I'm super encouraged that folks thought enough of me and my songs to want to help me make this record, I could not have made it without them. I'm really excited about these songs; I hope they strike a chord with many, many people, that they are a light to people. So thank you guys for being so generous and for wanting me to make this record. I'm thrilled about it.
DT: I know you're working on the new album right now. What can listeners expect when it's released in Spring 2012?
Eric: I remember we talked about Chrome last year, and you asked me what I thought of Chrome a year-and-a-half after the record came out. The assessment was that it was a pretty somber, sad album – which is was, and is, and I suppose needed to be. I think during the making of that album was just one of the lowest and most difficult times I've ever had in my life. Now I'm coming out of that and sort of seeing light again. I have a new appreciation for things that I've taken for granted; things that won't be around forever; appreciation for my family and just the chance to write songs and to call myself a professional musician. I realize there are plenty of other people who are far better than me who might not be able to do this full-time. So I just feel like there's a new life in me right now and I'm just really grateful. I feel like the new batch of songs are a return to enjoying life – staying present in our lives. I'm writing about how what was lost can be found and encouraging folks that have been with me on the journey through the records, that there are good things to remember and admirable things to dwell on – things to take to heart.
DT: Tell me about one of the newer songs you've written.
Eric: "The Old Year of Denial" was written in January 2010. For me and for so many other Americans, even people all over the world, the year 2009 was very frustrating, disheartening, hopeless, despairing. It just felt like there was a dark cloud over the entire year, and for me professionally '09 was just the worst I've ever had career wise – trying to book shows and get work. And so the song is just me saying "Sayonara 2009. I'm glad to see you in my rear-view mirror." It's a song about just being present in our day and in the moment and me just being grateful for the chance to not only live another day, but to get to sing another day.


This week's episode #160 of UTR features songs and an interview with Eric Peters. You can watch a montage music video filmed during the UTR "In Your House" Tour, and enter to win an EP Prize Pack.