Q&A with All Sons & Daughters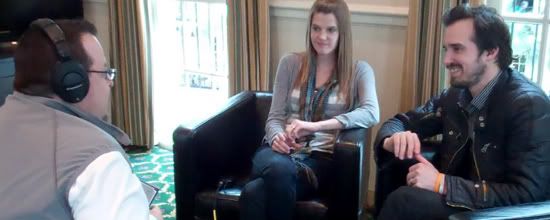 Worship music comes in all shapes and sizes. For the last decade, some of the most recognizable and commercially successful songs around the globe have come from the hands of worship pastors like Matt Redman, Darlene Zschech, and Chris Tomlin. There's also another wave of worship music on the rise which is appealing to those who enjoy a more stripped-down, raw, and intimate worship experience. A great new duo in this indie worship wave is All Sons & Daughters, comprised of Leslie Jordan and David Leonard. Last year, UTR had the privilege of being their first ever radio interview, and here's some of our conversation.

DT: When did you guys begin playing music together?
Leslie: I was leading worship at my church in Franklin, TN and David was attending there and led off and on. He came off the road [as a member of NEEDTOBREATHE] at one point and said he wanted to start writing songs for the church. We ended up getting together and … you're better at telling this part of the story …
David: I wanted to start writing songs for the community of people I was involved with the most -- my church family. So the idea of getting to write songs for them was really exciting and I wanted to be able to connect it, I didn't want to do it just to do it. Leslie and I ended up meeting and decided we were going to write together and it was just the easiest thing that I had ever done. It was really fun and magical and we were just like "Alright, let's keep doing this if we can." So I would come off the road and we would get together and write and I would be gone and she would lead the songs at church. She was telling me stories of how the people were connecting with the songs. They were connecting because the songs were actually written for them and they are for what they're going through. That's when I made the decision that I wanted to come back home and be a part of what God was doing in our church family. So mid-2010 I came off the road and we started this thing.

DT: Where you surprised by the huge response you received from your debut anthem "All the Poor & Powerless"?
Leslie: I feel like "All the Poor and Powerless" is one of those songs that is speaking beyond what we could have imagined. Churches and organizations are adopting the song; it has a life of its own and speaks for itself. That's honestly beyond our wildest imagination for any of the songs we could have written. We just had the intention for our church to identify with some of the songs instead of just playing somebody else's worship song. There's a lot of life in that song we're always excited for people to hear it.

DT: Do you sense that you are a part of a new movement of more raw and passionate worship music that people are connecting with in a deep way?
David: I think with a lot of those people – John Mark McMillan, Gungor – there's a lot of guys that are just writing songs that are really unhindered and untamed. I think that's what people are waiting for right now. They want the freedom to be able to say what they feel. I feel like this new movement is the new moment of hearing the heart of the actual church. Whether it's good or whether it's bad, it's going to be put out there. The thought of not feeling close to God, or the thought of feeling like God has left them, has not been talked about in a long time and I feel like we're getting to a point where people are actually ready to talk about some of that stuff. And the thought that there is a God that is there and a God that cares a God that is holding us even in the midst of struggle and pain. I think it's just a new movement of being vulnerable and putting yourself on the line and saying "God, this is what I really feel, this is what is in my heart, and now I'm going to lift it up to you."

DT: Tell us a bit about what you love to do away from church and music.
Leslie: For me it's quality time with my husband. We'll build stuff together and clean the house and go on bike rides. Those are the moments that refuel me, because I spend a lot of time with other people, so it's really good when you can spend quality time at home and get refilled and refueled.
David: Well I feel like if I don't say my wife I'm going to be in trouble -- since my wife is sitting across the room. Yeah man, I think for me just being able to dig in at home and do a lot of nothing is good times for us. For example, we went to the antique mall yesterday and did the antique thing. We like that kind of stuff -- even love watching TV shows like Pawn Stars and American Pickers.
Make sure to listen to UTR #171, where All Sons & Daughters is the VIP guest. You can also view their live performance of "All The Poor & Powerless" at a private UTR event in Nashville.