Opportunity Knocking
Today, it's a break from music to talk about culture.
Should a pastor friend of mine have accepted an invitation to "Beerfest," an annual gathering of men at a neighborhood home? What would his congregation think if they found out? Well, he went... with the cost of admission in hand: a 6-pack microbrew. This resulted in getting to know several neighbors better, even having some personal & spiritual conversations that night. He gained far more that night than if he would have boycotted the event & stayed home with his arms folded in protest.
What about the annual festivity just days away, Halloween? Yes I said the "H" word. Will you boycott or will you seize the opportunity?
Let's be honest, to the majority of the nation, Halloween is nothing more than a fun day of make-believe and dress-up. Yet, the Church spends a lot of time emphasizing the pagan roots of All Hallow's Eve. Some even go as far as calling the entire holiday "evil." In a terrific 1999 article, John Fischer wrote:
"Not to diminish the reality of spiritual warfare - something to be taken seriously by all believers - but the last day of October is not a spiritual battle any more than any other day. If Satan comes out on Halloween, he doesn't go back into hiding the next morning.... If Satan wins anything on this day, he may win more through the darkened homes of Christians than anything else."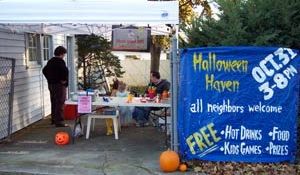 My wife & I were inspired by this article, so we started "Halloween Haven" on our block. We set up a tent outside of our garage so kids can play games and win prizes & candy. Inside the garage we serve hot dogs, hot cider, and coffee. We've been able to meet many neighbors and share openly about our faith. Regardless of your Halloween beliefs, on this day your neighbors WILL be walking your streets - knocking on your door. Will you be there to welcome them and engage in conversation?
Many Christians feel the best approach is to attend a Halloween alternative party at church. I believe this only adds to the problem. October 31 will be one of the biggest community hang-outs of the year, but where will the Christians be? Your dark house will speak volumes.
Just like a pastor carrying Jesus' light into Beerfest, my family will make sure our lights (physical and spiritual) are shining bright on my block on Halloween. Will your lights be on?