My Favorite Song for Easter 2012
Have you ever noticed how driving toward a vacation destination doesn't seem to be as long as the return trip home? I take at least 1 really long family road trip each year. The travel toward our destination is filled with the hopeful expectations of fun, relaxation, food, and a portfolio of memories. What am I looking forward to on the return trip? Work that's piled up, a lawn to mow, kids to prep for school, a pile of unopened bills, and my vacation day account down to zero. It's no wonder why time seems to slow down on the arduous journey home.

As believers in Christ, we are called to get our heads out of the mire of our daily (temporary) difficulties, and focus on our eternal destination. Here's how Colossians 3:1-4 puts it:
Since you have been raised to new life with Christ, set your sights on the realities of heaven, where Christ sits in the place of honor at God's right hand. Think about the things of heaven, not the things of earth. For you died to this life, and your real life is hidden with Christ in God. And when Christ, who is your life, is revealed to the whole world, you will share in all his glory.
Notice that first phrase... it is because of the Resurrection to new life that we can fully experience the hope of heaven.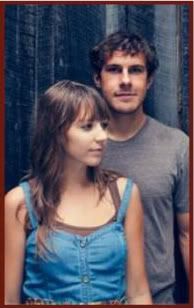 My favorite song for Easter 2012 comes from the vantage point of our heavenly victory. When we look back, we will see that it was all made possible through the empty tomb. The song "See The Conqueror" may be 150 years old, but this version is brand new (releases 4/3/12). I asked Jenny & Tyler about the story behind this song:
Jenny: Last summer we were in Maine for our anniversary and went to a used bookstore where we found a really awesome antique hymnal and took it home with us. I was just flipping through it and found that hymn. It's from the 1800's, so the majority of hymns in that book I had never heard before. And it's always easier to give a hymn a new melody when you have no idea what the original one was. So I just sat down with it and started singing. We've always wanted a Resurrection song because we don't feel like there are enough of them out there.
Tyler: Man, that song, it's probably my favorite song on the record because it help me to love Jesus more. When we were singing it in the studio...
Jenny: ...Recording the vocals to that song was probably the most worshipful time we had in the studio.
Tyler: It was really powerful!

SEE THE CONQUEROR
(Words: Christopher Wordsworth, 1862 -- Music: Jenny & Tyler Somers, 2012)

See, the Conqueror mounts in triumph; see the King in royal state,
Riding on the clouds, His chariot, to His heavenly palace gate.
Hark! the choirs of angel voices joyful alleluias sing,
And the portals high are lifted to receive their heavenly King.
Who is this that comes in glory, with the trump of jubilee?
Lord of battles, God of armies, He has gained the victory.
He Who on the cross did suffer, He Who from the grave arose,
He has vanquished sin and Satan, He by death has spoiled His foes.
They raced to the tomb, angels stood by;
Mary was weeping for the empty inside.
For the sins of the world, and for the sake of His bride,
He went to His death and behold He's alive! He's alive!
Oh, He is alive!
Thou has raised our human nature in the clouds to God's right hand;
There we sit in heavenly places, there with Thee in glory stand:
Jesus reigns, adored by angels; man with God is on the throne;
Mighty Lord, in Thine ascension we by faith behold our own.
"See The Conqueror" is a new track on Jenny & Tyler's 5th release Open Your Doors. Although they worked with a producer for the first time in their career (Grammy winner Mitch Dane), the production elements are quite restrained - giving the album a bit more of a raw, live feel; while placing most of the spotlight on Jenny & Tyler's strongest attribute - their amazing vocals. Fans of gritty artists like The Civil Wars, Jon Foreman, and Waterdeep will find this CD a treasured addition to their collection. The overall musical style has a hymn-like quality to it, allowing the songs to carry well the theme of remaining in Christ, and they seem to only grow on you with each listen. With Open Your Doors, Jenny & Tyler have proven that they are one of the most talented, passionate, and under-valued artists in - not just indie music, but - the entire music industry. They will be turning a lot of heads in 2012, and justifiably so.

You can listen to "See The Conqueror" below, and you can also hear it as part of UTR's 2012 Easter Radio Special (available to download 4/5/12). Besides Jenny & Tyler being our interview guest on UTR #174 and #175, they are also sharing several exclusives with UTR to celebrate the release of Open Your Doors.
See the Conqueror