Hutchmoot 2011 Recap
Over the last 4 days, I got to experience one of the most amazing gatherings of community, faith, and art. Hutchmoot is an annual gathering in Nashville, organized by The Rabbit Room, an online community founded by one of my favorite artists, Andrew Peterson. It sounds like an exaggeration, but I believe this event has ruined me in all the right ways - something I won't forget for the rest of my life. Here's my daily notes:

Day #1 - Appropriately, the very first event on the schedule was dinner. I learned quickly that here meals were sacred experiences. It was also clear that the presenters were "one of us" – not demanding a private Green Room or VIP amenities. This kind of integration is a powerful statement against what haunts other Christian conferences I've attended, where everyone is vying to be heard or scratching for some position or rank. Not here. In fact, the opening session began with an amazing speech by Andrew Peterson - not only ranting against individuals who call themselves "a creative," but also breaking down the separatist attitude that plagues creative people. In turn, I see my own guards being lowered as I find acceptance for who I am and why I'm there - not trying to live up to who I am not. The main event of the night is a 2+ hour Square Peg Alliance concert, which included stories and songs by Andrew Peterson, Ben Shive, Jill Phillips, Andy Osenga, Jason Gray, Eric Peters,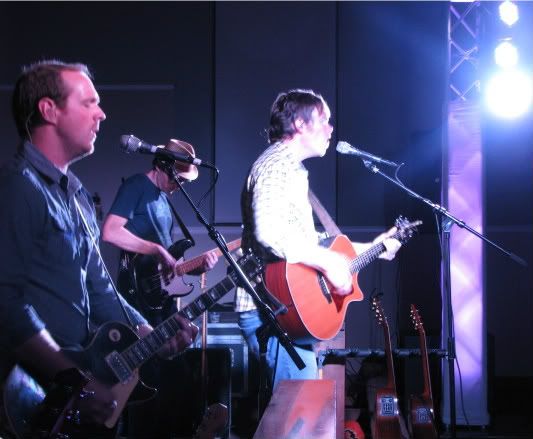 Katie Bowser, Andy Gullahorn, and Randall Goodgame. Dozens of people (myself included) hung out late into the night - sharing conversations and making new friends.
Day #2 – I'm not a writer or musician, so when it came to the breakout sessions, I didn't know if I would be a "square peg" (pun intended). In the morning, I attended a songwriting session with Randall Goodgame, Jason Gray, Jill Phillips, and Eric Peters. In the afternoon, I was in the session on production with Ben Shive, Cason Cooley, and Andy Osenga. To my delight both of these sessions were less about nuts and bolts and more about the philosophy behind how each artist uniquely approaches their craft. The conversations in the hallways and during meal times were amazing. Friendships seemed to be developing left and right, which was a thing of beauty. The night was capped with an album release concert by Jason Gray (and full band) in support of his new album "A Way to See In The Dark" – which was not just good music, but a profoundly spiritual time.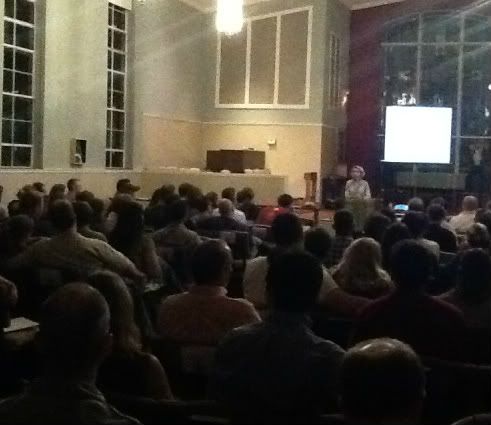 Day #3 – I arrived at the 'Moot late, and missed the morning session, but ended having a few terrific hallway conversations in its place. The vibe of the event encourages this kind of thing. As Andrew Peterson put it in the opening session: "We have an agenda, but we don't have an agenda for you." Worth noting that the pacing of the conference has lots of breathing room – not too rushed – in fact, quite peaceful and calm. The keynote address is presented by Sally Lloyd-Jones, author of The Jesus Storybook Bible. I was not prepared for what I received. She weaved real life biographical stories with short readings of her writings, and it was funny, challenging, inspiring… just powerful. By now, it's clear that my life will be deeply marked by this long weekend in Nashville.
Day #4 – I skipped church today (shame on me). I needed the extra sleep, and I needed to connect with my wife on the phone. We hadn't talked except for short doses the last few days. The final breakout session I attended was about songwriting,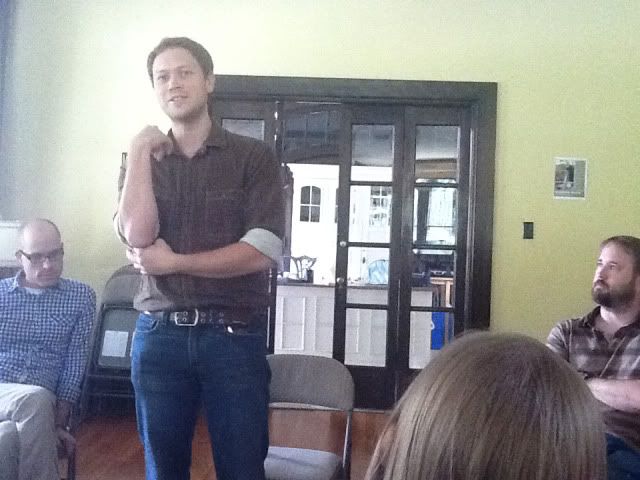 presented by Andrew Peterson, Ben Shive, and Andy Gullahorn. As the session began, Andrew introduced me and shared how thankful he is that Under The Radar exists. To call it "encouraging" is an under-statement. The closing session was 10x more emotional, spiritual, and sacred than I expected. Dozens of people shared how this weekend has rocked their worlds, met their needs, and changed their lives. It was a holy moment, concluded by the singing of the Doxology. Not even the Bears losing to the Packers that evening could damper the beauty of this day. As was said by several others in the closing session, "I have found my people!"

I would love to encourage you to get plugged into the Rabbit Room community, where art, truth, beauty, story, and faith all intersect. They have also been a huge support to Under The Radar, of which we are grateful. Also, visit our site right now to see a photo gallery of Hutchmoot.