Have a Concert In Your House!
Under The Radar brings you a unique opportunity to host an intimate living room concert with amazing singer-songwriter Eric Peters! Imagine being able to invite a couple dozen of your friends and family over to enjoy an hour of gourmet music. His stories will make you laugh, cry, and will basically change your world forever (no pressure Eric).

What in the world is going on?
UTR is sponsoring what we're calling the "In Your House Tour." We've held a bunch of promotional concert events in and around our home base of Chicago. This tour allows us to go to other areas of the country and introduce people to UTR in a grassroots fashion. And we can't go wrong partnering with Sir Eric and the UTR community! [Note: this tour is only available in the continental U.S.]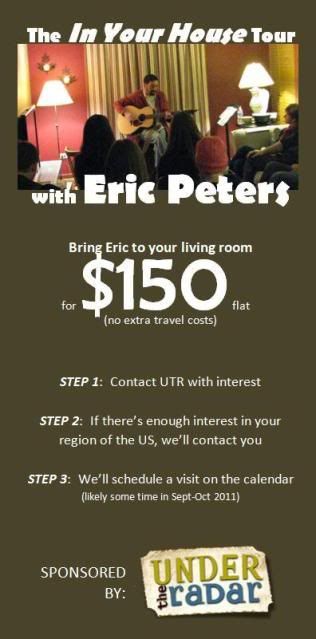 Why in the world are you doing this?
We believe in the value of intimate acoustic concerts -- and have witnessed hearts being touched deeply when an artist can share their stories and songs up close and personal. We wouldn't do it if it weren't a WIN x3 -- offering something unique for the hosts and attendees, serving the artist and being a support, and introducing UTR to new friends.

This all sounds great, but it probably costs the host $25,000, right?
Wrong. Well, right about the first 4 words -- we think it's an exciting opportunity. Hosting even a small concert from an out-of-town indie artist can easily cost $1000, $2000, or even $3000. There are a lot of expenses like flights, hotels, food, and Starbucks that are usually the financial responsibility of the host. On this tour, Under The Radar is subsidizing the trip, including all travel costs. This makes it a very affordable flat fee of $150 for the host.

Can the host collect donations or have a 'cover charge' to help with that fee?
Absolutely. While some hosts might not have trouble paying $150 outright, creating a free event for their friends -- other hosts might just rely on their connections. If 30 people each chip in $5, that fee is covered -- so we hope we are making this realistic for anyone, no matter their financial situation. One important note: If the host takes up a collection of some sort, and more than $150 is received, the excess will go directly to the artist.

I'm sold! How do I offer my house for a concert?
Excellent. It's an easy 3-step process, as follows...

STEP 1: Visit our CONNECT page, and under the EMAIL US section, make sure the subject has "House Concert" in it. Please make sure the following information is included in the email: Name, City & State, How many people your living room can hold, & preferred month (September 2011 or October 2011). At this point you are only showing your general interest in being a host -- no commitment is being made. All tour interest must be submitted to UTR by July 21, 2011.

STEP 2: We will collect all of the email submissions, and figure out what regions of the US have multiple people interested. When we determine what regions we will likely be travelling to, we will contact the folks in those areas to see if we can move forward with the booking.

STEP 3: If you're in a region we're travelling to, we'll try to coordinate with you and the others in that region on the best dates for a visit. Since there are many puzzle pieces that need to fall into place, it is best if the host can be as flexible as possible on timing. Most of our travels will be in either September or October 2011. We would expect that in some cases the travel timing and the host's availability just won't match up, and we might have to scratch some names off our list. But we'll be doing our best to make it work for everyone! Once we have a date & time booked, the host can start inviting their friends & family for a terrific evening.

What?! This sounds too good to be true!
Shucks, you're making me blush. We've been in talks with Eric for about 8 months to make this a reality. It should be an exciting experience for everyone!

What if I'm a church or coffeehouse -- can we have Eric perform at our establishment as part of this tour?
You bet. However, the $150 rate is an offer only for house shows. We do have a rate for other venues (based on venue size) that will still save a church or business over 75% from what it would normally cost to bring in an indie artist like Eric.

Who is traveling with Eric?
In some cases, Eric will be entirely by his lonesome. For the majority of concerts, Dave from UTR will be there with Eric to hang out with you.

What are the technical needs to pull off a concert?
This tour will thrive on simplicity. For most 'normal' sized living rooms, no sound system is needed. If you had a stool, a music stand (or small table or 2nd stool), and some bottled water, then we will be extra happy campers.

You have done a fabulous job of answering all my questions... but I'm concerned that MORE questions might pop up?
Thanks -- and no problem. Just use the web mail link above, or send an email direct to Dave@radarradio.net. We'll be happy to quickly answer additional questions.