Concert Review - Jenny & Tyler at The Union
Just over a week ago, UTR hosted a lunch concert and interview with Jenny & Tyler. Not only did I get to see them perform in this private intimate setting, I also saw them play that night at The Union in Naperville, Illinois, in front of the most responsive crowd they've seen outside of Delaware, their home state.

When I pulled up to what looked like an older conservative church, I had doubts about The Union, a concert venue sponsored by North Central College. Could this really be the same artsy place I checked out online? As soon as I reached the entrance, I was greeted with an excited buzz of college students and visually stimulated by posters announcing coming artists.

The interior of The Union was definitely not reminiscent of an old church. The place has a calming vibe. The main room is dimly lit, hung with black and white pictures of artists they support. To the right is a coffee bar and to the left, merch tables for that night's artists. The stage is in the back with chairs and tables reaching about half way across the length of the room.

By the time Jenny & Tyler hit the stage, the place was packed. There was no way of getting anywhere without continually bumping into people and saying "excuse me." The audience was warmed up by a crowd-pleasing opening act, Andrew Salgado, but they were clearly there for Jenny & Tyler. The duo opened their set with "Song for You," which is about the love of God constantly pursing us—even when we don't want it. Overwhelming applause filled the room and a humble shock swept over Jenny & Tyler's faces. Throughout the night, they continually expressed how stunned they were that the crowd was so supportive.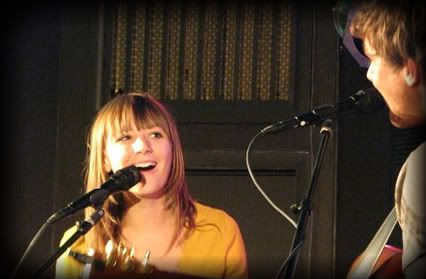 This being their second performance at The Union—they opened for Andrew Osenga earlier this year—Tyler asked how many audience members had heard them play the last time. A lot of people hollered (and obviously brought friends). I can see why their music appeals to the college crowd. Jenny & Tyler's warm and loving interactions on stage are nothing short of what both singles and marrieds aspire for in relationships, especially during "One Eyed Cat" and "As Long As Our Hearts Are Beating," two love songs that they say feel like public renewals of their vows every time they perform. A friend of Under the Radar came with his wife and commented, "They have a gooey, gushy love going on up there, making eyes at each other all the time - and hey, I love that."

As I chatted with someone who had also been to both shows that day, he expressed a thought I'd had as well. "The show earlier started off featuring Tyler as the lead vocalist, so I just figured Jenny was back-up. And then SHE sang lead and wow! They are both amazing. I didn't expect that." Both Jenny and Tyler have soothing yet intense vocal styles. While they had clear vocal tones with some vibrato splashes here and there, the real attraction was their use of dynamics and duet, at times harmonious, other times dissonant.


Their actual songwriting rises above many young artists, covering a wide array of subjects: social justice, lasting love, confession, and hope in the hard times. Lyrically, they aren't particularly poetic, and they haven't necessarily found the "new" way to say what's been said. But during every song, I felt like I was connecting with their thoughts. They have writing style that gives a window to their soul … and it feels raw and new. As far as their instrumentation, Jenny sprinkled in just enough glockenspiel and tambourine to add touches of sunshine, and Tyler on the kick-bass (crafted out of an old suitcase) added a deep intensity. The rest of their instrument set included Tyler on acoustic guitar and Jenny on mandolin.

Jenny & Tyler have a rapidly growing fan base and a big part of me is very excited for where their career seems to be heading (touring with Sara Groves later this year), but another part of me wants them to remain exactly what they are: indie artists who travel around performing at small venues, available to get to know their fans. So if you're like me and you like amazing music in intimate settings, book them to come your way soon!

To tide you over until you have a chance to see them live, check out this video montage of Jenny & Tyler performing at The Union. You can also view UTR episodes here which feature the music of this terrific duo.


-------------------------------------------------------------------------------------------------------------
Kelly Van Engen is a wife, mother of 4, CIA spy, UTR assistant -- and she accepts payments in cases of Diet Soda.