Complaining Is The New Black
I had a unique entrance into adulthood that took me from 19 years old and relating to fairly positive thinking and thankful peers, to staying home with babies for 4 years. Then as I entered my mid 20's I became more involved in adult conversations and was really put off by the blatant hatred toward my positive outlook on life. A shift took place in which it became second nature for peers to grumble and complain but socially unacceptable to be genuinely happy.
The ability to be vulnerable and transparent about what isn't going right in our lives is one the things I love most about our generation. Unfortunately this shift has also led our social time to become giant whine fests. How many of my peers know my husband's strengths instead of his weaknesses? How many know the amount of fits my kids have thrown this week but not how many times they've helped out with chores? If you're complaining about your life and family, then "you're being real" – at least that's the trend I'm seeing.
I am truly thankful to live in a generation that doesn't have to pretend everything is "all hunky-dory". And at the same time, a similar problem has arisen. Even on good days I find myself pretending to be negative, because sometimes that's the only way to be part of a conversation or to be truly accepted.
I'm not asking my peers to revert back to what came before us - a generation bearing happy masks, but I am calling out for a middle ground. I long for a world in which it's okay to say I am really struggling right now AND to be able to genuinely say I am full of joy, not because I'm ignoring my problems, but because of God's grace in my life.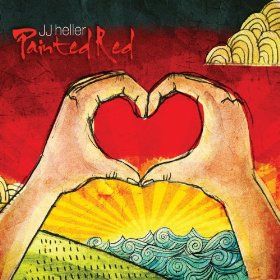 Singer-songwriter, JJ Heller, has been a good example of what I hope we can be like as a society someday. She has allowed herself the freedom to write songs about her struggles right alongside songs about the security and joy she finds in God. "All I Need" is one of my favorite songs to listen to when I need a like-minded friend to celebrate God's grace in this life.
Goodness and mercy are following me
You're all that I need
You make a home for me
Where pastures are green as far as I see
You are all I need
------------------------------------------------------------------------------------------------
Kelly Van Engen has never eaten an ice cream cone and is currently the program assistant for UTR.