Come Ye Apart… to Hutchmoot 2012

My grandparents owned a cottage that was a summer vacation destination for most of my life. You pull your car into a dirt and gravel parking area, and you have to hike a 50-yard narrow trail through the woods to reach the destination. A sign arched above the path's entrance that quoted the King James Version of Mark 6:31a, saying "Come ye apart… and rest awhile." It was a threshold where you let go of the worry and struggle of everyday life. Walking under that sign was a symbolic opening of one's heart to the beauty of rest.

I love my job. I verbally tell dozens of people every year that I consider "Under The Radar" a dream job. Even though I experience an abundance of joy with what I do for a living, there is virtually nothing about my job that is restful. I have big dreams for UTR and a fair amount of ambition to see us accomplish our goals. This can be good, but it's also just about the polar opposite of restful.

Along comes Hutchmoot. It's an annual gathering in Nashville hosted by The Rabbit Room, a collaborative blog founded by Andrew Peterson. This year was their 3rd gathering and the 2nd I've attended. It is a destination of some of the sweetest and most genuine people I have ever had the pleasure to meet. About 200 people from all over the country come to find a community full of brokenness, honesty, and grace. In Andrew's opening address the first night, he expressed his desire for each person "to find real soul rest" while at Hutchmoot. When I attend other conventions and conferences, I usually return home worn out and exhausted. But after Hutchmoot, I returned home feeling peaceful, even energized.

Here are some of the unforgettable moments I experienced at Hutchmoot 2012:
If the scheduled performances by Waterdeep, Randall Goodgame, Jason Gray, Jill Phillips, and Andrew Peterson (among others) weren't enough, there were some unforgettable unscheduled performances as well – namely, Eric Peters performing a set of music and bearing his soul in the outdoor tent, and Andy Osenga donning his spacesuit and performing the entire "Leonard" project live with a full band! (See video below!)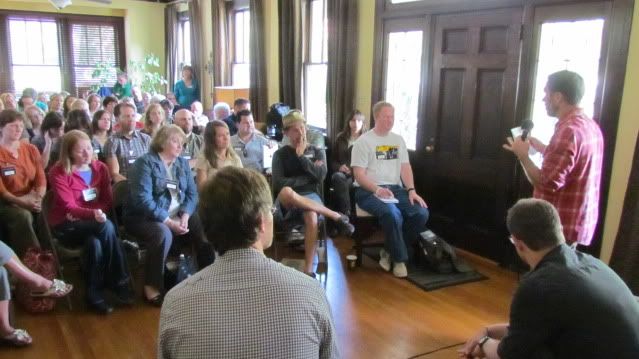 The breakout sessions are always a chance to dig deeper into one aspect of writing, art, community, or music. The session on Sept. 21 led by Jason Gray, Andy Osenga and Eric Peters was called "Recovery Through Song." It was the best session I had ever experienced at Hutchmoot. They shared how songs about the light alone can be shallow, because it takes the darkness to show how beautiful and hopeful the light is.
The keynote speaker on Sept. 22 was Phil Vischer, aka Bob the Tomato. He challenged a room full of very creative and artistic people to let go of your desire to change lives through your art. Our art and our vocational dreams may become an idol in our lives. "Are you looking for one big thing to do? God has many things for you to do. Don't pursue impact. Pursue God!"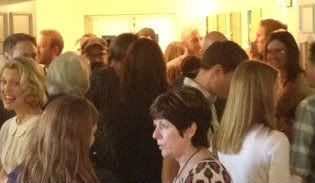 This comes as no surprise, but Hutchmooters are some of the kindest, most compassionate, most real people you'll ever find. I was impacted just as much by the fellow attendees as I was any performer or speaker.
As we would leave my grandparents' cottage, we would have to hike up that same narrow path toward our car. The sign that arched over the entrance of the path had a message painted on the back. Those departing would read the words of the 1880 hymn, "God be with you 'til we meet again." I always found it a fitting farewell from a vacation escape, and that message rings true as I say goodbye to this year's Hutchmoot. I already look forward to the four-day gathering in September 2013.