CD Review: "Birds of Relocation" by Eric Peters
This is the CD release day of Eric Peter's 9th project, Birds of Relocation, which was released in digital-only format 5 weeks ago. We don't write a lot of album reviews, but this one is so special, it would almost seem wrong to not highlight it.

I met Eric's music and Eric the person in 2009. I have come to deeply appreciate his art, but I even more so admire the man – an honest, vulnerable person who allows the Gospel to meet him in his brokenness. I met him when he was in a valley. 2009 was a very dark year for him, and Chrome appropriately spoke on some of those fears, doubts, and grave disappointments. But Eric will openly tell you that he is in a different place – a healthier place now.

Here's how Eric described the project to me in a recent interview: "I feel like there are a few themes going on but the main one is coming out of darkness back into light; which is sort of my experience over the past couple years, especially since the release of Chrome in 2009. I always write about hope, that's sort of a lifelong theme of mine, this time talking about being lost and found again and an old year versus a new year. The main umbrella is coming out of darkness and seeing light again."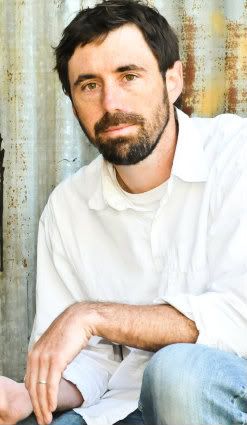 Birds of Relocation is more than just a collection of songs. This is an amazing chapter in the book of Eric Peters. The listener is invited to hear from the heart of someone currently tasting new hope. This is the realization of the longing for reclamation found in Chrome.

Recommending this album is the biggest no brainer on Earth! Eric is one of the most underrated songwriters today, and his well-crafted lyrics shine through on all 11 tracks. For those who take the time to actively listen and digest each song, you will be treated to a feast for your heart, mind, and soul.

Allow me to pull back the curtain a bit. I sent Eric a private email last month, after my first full listen to Birds. I had no intention on sharing this publicly, but I think it's worth seeing my response as a friend… and not as a "critic." So…

Here were my my top 5 BOR impressions – Casey Kasem style, exactly as sent to Eric.

5. The last 0:48 of "Where Would I Go" -- Did you dream up all that production? It's crazy. Crazy good! From the electric guitars, doo wop BGV, horn section, bells, the "ooo Ooooo's"... just tremendous, and more "fun" than I've ever heard in an EP song before!
4. "No Stone Unturned" -- Didn't see it coming. One of your most worshipful and spiritually overt songs. But not a single second that is contrived or cliche. A powerful surprise!
3. The final 1:10 of "New Year" is so beautifully put together. The "Whoa ohhh's" and guitar solo and echo create this amazing vibe. Love!
2. Having heard "Today Dream" live around 20 times -- it's great to hear the produced version. And it's got that perfect trippy "Pet Sounds" vibe going -- really nice. [Way to go Ben!]

1. "Voices" -- I hate to pick just one, but probably my favorite song on the album -- at least lyrically. For some reason I'm not a huge fan of the piano ballad thing, but it works here. Also this one lacks some of the production flair of other songs... but with lyrics like "In the silence/ When we lean into the silence/ We choose the thing that hates us most/ And rest upon its lies" -- dang, boy -- that's some big league chew. And in the arrangement, I absolutely love the very subtle slide guitar or dobro-ish sound. Doesn't trump "Reality" as your best... but in your top tier of songwriting!
Buy MP3s or hard-copy CD of Birds of Relocation at The Rabbit Room
Enter to win (thru 5/15/12) an Eric Peters' autographed 4-pack of CDs

---------------------------------------------------------------------------------------------------------



Don't just take my word for it. Here are a few other reviews of Birds of Relocation:
"One of the best records I've ever heard. Seriously, maybe top 20 all-time… I think if Rich Mullins had been given more time here, and if God had blessed his life with love and a wife, if he had the chance to see as much of the relational beauty as he saw of the natural beauty, I think he might have written some songs like the ones we find on Birds of Relocation. And you know that's about the highest praise I can give someone. You will not find a combination of more beautiful poetry, raw honesty, and gorgeous melodies for a long time." – Todd Agnew, Fair Trade Services recording artist
"Birds of Relocation is a soul awakening, triumphant, honest survey of a year of life and loss. Eric's tell-it-like-it-is voice combined with these aching melodies come together to pronounce both heartache and hope, bringing these two opposite sides of the same coin into view simultaneously. This musical offering is a needed spark of inspiration in a cultural moment heavy with cynicism. These songs speak. They lift. They comfort. Eric skillfully blends melancholy with sunshine. And the end result is magnetic." - Sandra McCracken, singer-songwriter
"Eric Peters has crafted his greatest album to date. The story Eric tells on Birds of Relocation is his own escape story. It's the airborne travelogue of a grateful, singed survivor, the record of one songbird whose shining eyes are turned suddenly skyward." – S.D. Smith, writer
"The more I hear Eric's music, the more aware I am of how generous he is, always giving away every bit of hope for the journey as he finds it. When I buy an Eric Peter's record, I'm not just adding to my music library, I'm participating in his artistry and making space in the world for songs that bleed life, truth, hope, and beauty." –Jason Gray, Centricity Music recording artist