CONCERT REVIEW: An Acoustic Evening with Jason Gray and Todd Agnew
When I heard Jason Gray and Todd Agnew were putting on an acoustic set together in the Chicagoland area I was really excited to have another opportunity to see Jason live and get to hear Todd live for the first time. A UTR listener had recently commented that we need to play more Todd Agnew music, so trusting their advice I knew I was in for a treat. I also thought, "What a strange pairing, Jason and Todd." From their apperance and vocal styles, they seem quite different. Jason was vocal about his awareness of their external differences - he mentioned, "Todd is so ... manly. I had to grow a beard for this tour."
Todd opened the show. As I sat and watched and listened, I didn't experience what I expected. I expected a man with a robust personality and instead I witnessed a quieter, humble man with an extrodinary voice that seems to rise out of nowhere. He spoke about wanting the first part of the set to revolve around the theme of heaven explaining that "heaven should color our view of today, not today color our view of heaven." Along those lines he talked about how his friend Ted Dekker had an idea for him to write a song about what God wants to tell us about heaven, about the glory and joy of being with him. Out of their teamwork came "Martyr's Song." Todd also paid tribute to hymns talking about how many
hymns start with the glory of God, move onto our walk in this life, then in the last verse they almost always end with heaven. The crowd joined him in a hymn sing of last verses including "It Is Well," "How Great Thou Art' and "Amazing Grace". He reminded us to "set our eyes there, so we can focus on what we have here more cleary." Then in a perfect end to his first set, and ironically a perfect closing to the last day of Under the Radar's Rich Mullin's Tribute he played a cover of "Elijah" by Rich Mullins saying, "Ordinarily I come to my shows with a list of requests I've recieved from those who knew they were going to attend, but tonight I want to play a song that really touches me, one of my favorites."
Next, we had Jason who arrived with his comical personality. It took a minute longer than he expected to get his stuff together on stage so as the clapping died down he mentioned, "I was really hoping to get to the mic before you stopped clapping ..."
and then motioned us to continue clapping for about 20 more seconds. Jason opened with "Everything I Own" a fairly well-known song to his fans, but one I hadn't really listened to until that night, it brought tears to my eyes. He continued his set with "More Like Falling in Love" and really engaged the crowd to sing along. After that he insisted on teaching us the next one as well claiming, "It's your fault ... for being so good. It's like, if you don't want to do the dishes again, break a few." Laughter filled the room and he began to introduce "Help Me, Thank You". Jason closed out his solo set with a high energy, passionate song, "I Am New."
Here's the moment of the show where I have experienced many people zoning out, checking their phones, and chatting with their neighbors. The moment when the challenge is presented by the artist to sponsor a child through World Vision. But there was a different vibe to this crowd at Fountain of Life Church in Lombard, IL. These people were completely engaged, cheering a life lived to build a lasting kingdom, shouting "Amen" to being men and women who care for the least of these and during the video that followed, you could hear a pin drop. Not only did they seem on fire for the cause during "the call" but the table with the sign-up cards was busy during intermission AND after the show. Jason did a great job bringing the Lord's desires to our ears.
The second half of the night Todd and Jason shared the stage.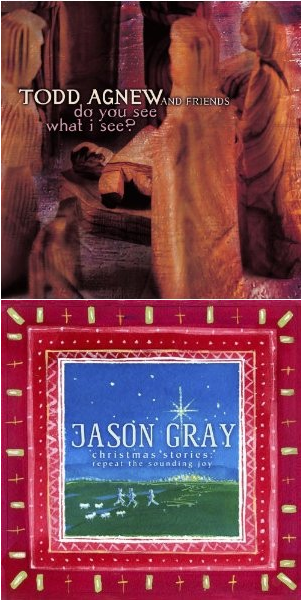 We heard some more of Jason's high energy songs like "It's Good To Be Alive" and "Remind Me Who I Am" as well an intimate favorite of mine, "Sound of Our Breathing". The highlight of the night was when the guys shared songs off their Christmas albums, Todd's was released years ago and Jason's will be released this week. I have been anticipating Jason's release since I heard him talking about it this summer and from the song he shared, "Easier (The Song of the Wisemen)," I know it's going to be amazing. Todd shared "All I Have to Give (Joseph's Song)"; a song where he put himself in Joseph's shoes and thought, "There are no James Dobson books on how to raise the Messiah." He also shared "Loved" a song Jason introduced as his favorite song that Todd does in their set as well as a great unreleased song called "The Voyage". The evening was closed with Jason and Todd leading the audience in "Grace Like Rain," a popular praise and worship song written by Todd, but they added a tag ending from the hymn "Jesus Paid It All" leaving us with these lyrics hanging in the air, "Jesus paid it all, All to Him I owe; Sin had left a crimson stain, He washed it white as snow."
Overall the concert seemed a bit more like a night of worship than a singer-songwriter concert. While I was expecting the latter and was a little disappointed that I didn't get to know more of Todd's music, my husband loved it just the way it was. He was impressed with the worship aspect of the evening and was greatly ministered too. Judging by the audience's response to the artists I believe most walked away feeling like my husband. Perhaps the fact that I knew Jason really well overshadowed how much I actually did get to know Todd that night. I know this for sure, I will be watching for more of Todd's solo shows in the future; he has a lot to offer and I'd love to see him own the night.
Check out Todd's performace of the Rich Mullins song "Elijah" here:
------------------------------------------------------------------------------------------------
Kelly Van Engen, like Todd Agnew, prefers going barefoot (see video) whenever possible and is currently the program assistant for UTR.